Specializing in the Treatment of OCD, Dermatillomania and Trichotillomania
Dermatillomania / Trichotillomania Therapy Groups
The OCD Center of Los Angeles offers two weekly, low-fee therapy groups specifically for adults over the age of 18 with Dermatillomania (Skin Picking Disorder) and Trichotillomania (Hair Pulling Disorder). Many people secretly suffer with these conditions, and the goal of these groups is to provide an inexpensive format in which individuals can learn to more effectively manage their skin picking and hair pulling within a safe, supportive environment.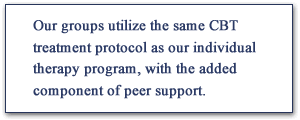 Both Skin Picking Disorder and Trichotillomania are characterized by recurrent, compulsive self-damaging behaviors, and both are resistant to improvement with traditional psychotherapy. However, both conditions respond extremely well to a specific type of Cognitive-Behavioral Therapy (CBT) called Habit Reversal Training (HRT). This therapy has been repeatedly researched, and has consistently been found to be the most effective treatment for these and other body-focused repetitive behaviors (BFRBs) such as cheek biting and nail biting.
Our two weekly groups focus on peer support and HRT, as well as on Mindfulness-Based CBT, which has been found to be particularly effective with Trichotillomania and Dermatillomania, especially when combined with HRT.
The OCD Center of Los Angeles has had dedicated low-fee CBT therapy / support groups for Trichotillomania and Skin Picking Disorder for over a decade in West Los Angeles. We now also offer a similar group at our Fullerton location in Orange County. Our West Los Angeles group is currently full, and our Orange County group has one opening. Both groups are led by our professional staff therapists. Meetings are open to adults over the age of 18 only, and participation requires assessment prior to admission.
The OCD Center of Los Angeles is a private outpatient treatment center specializing in the treatment of OCD and related anxiety based conditions. We treat adults, adolescents, and children, and offer services six days a week, including evenings and Saturdays. We have ten therapists on staff at four office locations in Southern California:
Brentwood
Woodland Hills
Orange County (Fullerton)
Santa Barbara
Please click here for direction to each of our offices.
For more information about participation in either of these groups, or if you would like to discuss individual therapy, online therapy, or intensive treatment at the OCD Center of Los Angeles, please call our client coordinator at (310) 824-5200 (ext. 4), or click here to email us.
You can click here to learn more about Trichotillomania.
You can click here to learn more about Skin Picking Disorder.