Specializing in the Treatment of OCD, Dermatillomania and Trichotillomania
Online Group Therapy For Dermatillomania and Trichotillomania
The OCD Center of Los Angeles offers a weekly, low-fee therapy group specifically for California residents over the age of 18 with Dermatillomania (Skin Picking Disorder) and Trichotillomania (Hair Pulling Disorder).
Many people suffer in silence with these conditions. The goal of this group is to provide an inexpensive format in which individuals can learn to more effectively manage their skin picking and hair pulling within a safe, supportive environment. Please note that this group meets online via webcam, and is limited to residents of California.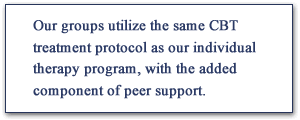 Both Dermatillomania and Trichotillomania are characterized by recurrent, compulsive self-damaging behaviors, and both are resistant to improvement with traditional talk therapy. However, both conditions respond extremely well to Cognitive-Behavioral Therapy (CBT). This therapy has been repeatedly researched, and has consistently been found to be the most effective treatment for these and other Body-Focused Repetitive Behaviors (BFRBs) such as cheek biting, lip biting, and nail biting. This weekly online group focuses on CBT and peer support exclusively for these conditions.
The OCD Center of Los Angeles has had dedicated low-fee CBT therapy/support groups for Dermatillomania and Trichotillomania for over 15 years at our Brentwood office in West Los Angeles. When the COVID pandemic began, the group transitioned to meeting online via webcam. The group is led by one of our licensed staff therapists, Chanel Taghdis, MFT, and meets each Thursday evening from 7:00 pm until 8:30 pm. Please note that this group is open only to adults over the age of 18 who reside in California, and that participation requires an assessment prior to admission.
Assessment for Group Therapy Participation
All of our groups are exclusively for adults over the age of 18, and all groups require an assessment prior to admission and participation. The goals of our group therapy assessment are three-fold:
To make an accurate diagnosis.

T

o explain group processes and procedures.

To discern whether or not the individual being assessed is an appropriate candidate for participation in group therapy.
Please note that having an assessment does not guarantee admission to any group. A group assessment allows us to ascertain if there is any reason that we believe a prospective group member would not be a good fit for participation in one of our groups. We reserve the right to restrict and limit participation in all therapy groups that we offer.
About the OCD Center of Los Angeles
The OCD Center of Los Angeles is a private outpatient treatment center specializing in Cognitive Behavioral Therapy (CBT) for the treatment of OCD and related conditions, including Dermatillomania and Trichotillomania. We have 12 therapists on staff, all of whom are either licensed or registered, and all of whom specialize in CBT.  We treat adults, adolescents, and children, and offer services six days a week, including evenings and Saturdays.
We have one office in Southern California:
Please click here for direction to each of our offices.
For more information about participation in this group, or if you would like to discuss individual therapy, online therapy, or intensive treatment at the OCD Center of Los Angeles, please call our client coordinator at (310) 824-5200 (ext. 4), or click here to email us.
You can click here to learn more about Trichotillomania.
You can click here to learn more about Skin Picking Disorder.
SaveSave