Excoriation (Skin Picking) Disorder is an obsessive-compulsive spectrum condition in which sufferers repeatedly pick at their skin. Crystal Quater, MMFT, of the OCD Center of Los Angeles discusses her personal experience with, and recovery from, Excoriation Disorder, and how she treats clients struggling with this condition.
---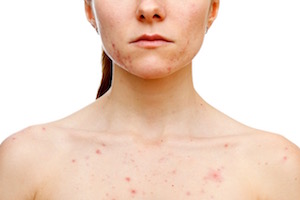 "I'm not going to do it, I'm not going to do it", I repeatedly thought on my way home from work. Yet, once again, I found myself in front of my bathroom mirror, picking at those pesky bumps that wouldn't seem to go away. When something came out, I felt an overwhelming sense of relief and accomplishment.
Next, I grabbed a needle that I had carefully hidden in a small bathroom drawer and went to town on the stubborn bumps that didn't respond to mere picking. I thought I was being clever by creating smaller incisions and doing what I imagined my facialist did when my eyes were closed. But when I finished, all I saw were raw wounds and a face that looked worse than it did before. I was left wondering how I would ever face the outside world with my unmistakable marks of humiliation.
Unfortunately, it was often difficult to remind myself of these painful episodes the next time I had the urge to pick. That's because I always thought "I can resist the urge this time".
If you've ever suffered from the seemingly irresistible urge to pick at your skin, you may have experienced a similar thought process. The Diagnostic and Statistical Manual of Mental Disorders, 5th edition (DSM-5), calls this condition "Excoriation (Skin Picking) Disorder", but it has historically gone by any number of other "unofficial" names, including Dermatillomania, neurotic excoriation, acne excoriee, psychogenic excoriation, pathological skin picking, compulsive skin picking, and chronic skin picking. It was formally introduced as an "official" diagnosis into the DSM-5 in 2013 after much debate over whether skin picking symptoms were evidence of a distinct condition, or were better explained by another underlying disorder such as OCD, or were just a "bad habit". Ultimately, the psychiatric establishment and the editors of the DSM-5 categorized it as a separate and distinct diagnosis within the larger category of "OCD and Related Disorders". In other words, it's not OCD per se, but it has enough features that are similar to OCD that it is classified as being related to OCD.
Excoriation (Skin Picking) Disorder is defined by the following symptoms:
Recurrent skin picking resulting in skin lesions.
Repeated attempts to decrease or stop skin picking.
The skin picking causes significant distress or impairment in social, occupa­tional, or other important areas of functioning.
The skin picking is not attributable to the physiological effects of a substance (e.g., co­caine) or another medical condition (e.g., scabies).
The skin picking is not better explained by any of the following:

Symptoms of another mental disorder (e.g., delusions or tactile hallucinations in a psychotic disorder,
Attempts to improve a per­ceived defect or flaw in appearance in Body Dysmorphic Disorder (BDD),
Stereotypies in ste­reotypic movement disorder
Intention to harm oneself in non-suicidal self-injury).
Excoriation (Skin Picking) Disorder is also less formally described as a Body Focused Repetitive Behavior (BFRB), along with similar conditions such as Trichotillomania (Hair Pulling Disorder), Onychophagia (Compulsive Nail Biting), and compulsive cheek biting. All of these conditions have one thing in common – the repeated touching of one's body in ways that result in physical damage.
BFRBs are often brought on by anxiety, boredom, physical tension, or other emotional states that leave a person longing for relief. Many sufferers also pick at slight imperfections, pimples, ingrown hairs, calluses, or scabs using their fingernails, tweezers, needles, or other sharp objects. Some may also examine, touch, or swallow any of their removed pieces of skin or scabs.
Skin picking episodes may last anywhere from less than a minute to several hours. For some, their picking is the result of a conscious effort, while for others it is an automatic, unconscious process of which the individual is unaware. And if the perceived "flaw" is successfully removed, the sufferer may feel a sense of gratification or pleasure. Conversely, depending on the severity of the damage, the individual may become socially withdrawn and very insecure about the appearance of their skin. As a result, Social Anxiety Disorder is a common comorbid condition for some struggling with Skin Picking Disorder. Likewise, many people with this condition also experience Body Dysmorphic Disorder (BDD).
While the above explains much of what defines Excoriation (Skin Picking) Disorder, it's equally as important to define what this condition is NOT:
Some therapists tell their clients that their picking is a form of self-harm and that they are intentionally punishing themselves. This can be confusing to hear since picking often starts out as a pleasurable act, but ultimately causes feelings of guilt and shame once the damage has been done. Conversely, self-harm is typically fueled by the need to regulate one's mood and externalize or release intense emotions by creating pain.
Virtually everybody picks at his or her skin as a part of normally grooming. But normal pimple popping is not the same as Dermatillomania. Unfortunately, many people have difficulty drawing the distinction between simply popping a pimple or two, versus meeting the diagnostic criteria for Excoriation (Skin Picking) Disorder. Those with this condition frequently, repeatedly, and compulsively scan their skin either with their fingers or by closely examining it in the mirror before picking. Conversely, the casual pimple popper does not generally pick compulsively at their skin, does not frequently spend time looking for the minor imperfections, and does not experience the extreme sense of guilt and shame once they've completed the act.
Although Excoriation Disorder is grouped in with OCD in the DSM-5 due to some similarities, there is a significant difference in the intention behind the behaviors that distinguish these two conditions. People diagnosed with OCD do not generally want to engage in their compulsions, but do so in an effort to relieve themselves of the profound anxiety they experience in response to specific obsessive thoughts. Conversely, Dermatillomania is often experienced in the moment as a strong desire or urge. In fact, many sufferers report initially feeling gratification or even pleasure when they pick. It is the undeniable consequences of their picking – the blood, the scabs, the scarring – that leads to so much self-loathing.
Many well-meaning doctors, family members, and others often label this picking behavior as "just a bad habit". Most people who suffer from Excoriation (Skin Picking) Disorder have attempted to interrupt their behaviors numerous times and become deeply frustrated with how difficult this can be. Labeling skin-picking as "merely a bad habit" ignores the complexities and profound emotional pain associated with this disorder.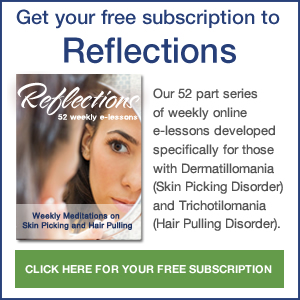 For many people struggling with Dermatillomania, the discomfort of having their struggle described as "just a bad habit" is further compounded in therapy because one of the main treatment modalities used to treat this condition goes by the unfortunate moniker of "Habit Reversal Training (HRT)". In fact, it is not unusual for this name to lead those seeking treatment to reject a therapeutic approach that can be extremely effective in reducing or eliminating their symptoms.
Unfortunately, some clients hear the word "habit" and immediately assume that their therapist is assailing their "weak" character, or suggesting that their picking is "merely" a simple habit that a stronger person would be able to easily change. On the contrary, therapists who specialize in treating Dermatillomania know that this condition is a function of a deeply ingrained brain pattern that develops over time, and which will require great effort to change. Brain research has found that what are often dismissively described as "habits" involve multiple regions of the brain that work in concert to create deeply entrenched neurological paths that are incredibly rigid and difficult to change. In his book The Upward Spiral, UCLA neuroscientist Alex Korb, PhD, discusses how our brains develop these neural paths when we repeatedly perform similar behaviors again and again over time:
"Each time you follow the same path, it becomes more and more defined in your brain…In addition each time you activate that brain pattern, it becomes easier to activate the next time. So pretty soon, it's nearly impossible to create a new path – all your brain wants to do is follow old tracks."
Think of it like driving your car through deep snow. When multiple drivers repeatedly drive through the same tire tracks, the ruts in the snow become deeper and deeper, eventually making it almost impossible for the following drivers to negotiate the road in any way other than to drive in the now deeply entrenched ruts created by previous drivers.
After repeatedly and secretly acting on these picking urges, often for months or years, sufferers typically feel incredibly ashamed about their behavior, and have difficulty asking for support, let alone professional help. One of the consequences of keeping these experiences hidden from others is having to live with the emotional pain, never exploring why this self-destructive behavior continues to happen.
Treatment for Excoriation / Skin Picking / Dermatillomania
All that being said, the good news is that Excoriation/Skin Picking responds extremely well to therapy that focuses on the following treatment modalities:
Cognitive Restructuring: This is the "C" part of Cognitive Behavioral Therapy (CBT). Cognitive Restructuring helps an individual with Excoriation (Skin Picking) Disorder think differently in response to the urge to pick their skin. Using Cognitive Restructuring, the sufferer learns to identify distorted thoughts (e.g., cognitions) that they have about their skin and about their urge to pick, and to challenge those thoughts with alternatives that exhibit a more balanced and realistic perspective. The basic goal of this technique is to help the sufferer become less likely to automatically buy into their reflexive picking thoughts, and to become more likely to challenge those thoughts, thus giving them the opportunity to behave differently by not picking.
Habit Reversal Training (HRT): As noted above, this treatment modality is poorly named. That said, HRT can be an enormously helpful component of successful treatment for excoriation. HRT is based on the principle that skin picking is a conditioned response to specific situations and events, and that the individual struggling with this condition is frequently unaware of their personal triggers. HRT challenges this condition in a two-fold process. First, the sufferer uses standardized logs as a tool to become more consciously aware of the situations and events that trigger their skin picking episodes. Second, they learn to prevent or interrupt their picking with alternative behaviors that are not damaging.
Stimulus Control Techniques: Over time, compulsive skin picking essentially becomes a "behavioral addiction". And as with any addiction, it is crucial to reduce the frequency of maladaptive behaviors by making it more difficult to accomplish them. In this regard, stimulus control techniques can be extremely beneficial. Some simple examples of stimulus control techniques include wearing gloves, bandages on the fingertips, or getting gel nails. While this may seem simplistic, we have seen many clients for whom this sort of intervention is the single factor that has had the most profound impact in reducing their picking.
Mindfulness and Acceptance Skills Training: While the above treatment modalities can be extremely helpful, they may not fully address the issue. For many, learning a more mindful and accepting attitude towards their perceived "flaws" (and their reactions to them) is the key to recovery. From a mindfulness perspective, skin picking is often the result of misguided efforts to control the normal and natural discomfort we experience in response to our unwanted thoughts, feelings, physical sensations, and urges to pick. But the problem is not really the discomfort, but rather our obsessive desire to control and eliminate that discomfort. Utilizing elements of so-called "third wave" mindfulness-based CBT treatment approaches such as Acceptance and Commitment Therapy (ACT) and Dialectical Behavioral Therapy (DBT), the goal of treatment is two-fold: to build greater awareness of our thoughts, feelings, sensations, and urges related to picking, and to learn how to non-judgmentally accept our discomfort with these experiences, without capitulating to the desire to pick.
Self-care: Since there is often a sense of emotional or physical discomfort before, during, and after an episode of picking, paying closer attention to the need for self-care can be crucial. For many, fitting in time for a relaxing and enjoyable activity can reduce the likelihood of using picking as a coping mechanism.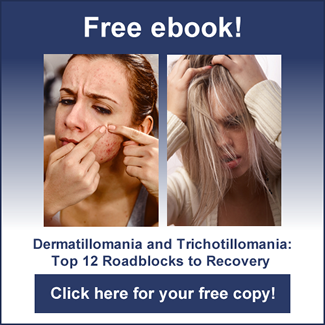 Despite these effective treatment interventions, skin-picking isn't given much attention in the counseling world, mostly due to a lack of awareness. In fact, in my graduate program in counseling psychology, skin picking was never once mentioned. Unfortunately, this is not an uncommon experience – most graduate programs do not focus on lesser known conditions such as Excoriation/Dermatillomania, and as a result, most mental health treatment providers know virtually nothing about this issue and how to effectively treat it.
I only learned about Excoriation Disorder after researching my symptoms online during my undergraduate studies. After stumbling onto this previously unknown diagnosis, I soon realized that others were just as clueless. When I spoke with coworkers or friends about my self-diagnosis, I often heard them say, "Wow, I wonder if I have that too". Then, there were family members and friends who offered well-meaning but unhelpful advice like, "Well, just try to stop".
If only it were that simple.
At the time, I thought it was normal to scan my face, fix my "flaws" and use heavy makeup or antibiotic cream until they healed. Over time, my picking eventually got much worse. Once I started experiencing both intense physical and emotional pain, I realized that this had gone too far. However, I couldn't stop, nor did I really want to.
Eventually, I realized that I couldn't interrupt the cycle of skin picking, shame, and avoidance on my own. I decided to start individual therapy, even though I was unsure whether my symptoms even warranted a visit. The first time I told my therapist the real reason I was seeking therapy, I burst into tears. It certainly wasn't an easy process, but I'm not sure that I could've kept that secret to myself for much longer.
Over time, I've learned that the goal of therapy isn't simply to eliminate these behaviors. It is also to understand what this disorder means to me, to gain skills that can give me a better chance of not acting on my urge to pick, and to practice self-forgiveness when I do. I'm fortunate enough to have identified what I was struggling with for so long, and to feel passionate about specializing in the treatment of Excoriation Disorder so that I can help others do the same.
• Crystal Quater, MFT is a psychotherapist at the OCD Center of Los Angeles, a private, outpatient clinic specializing in Cognitive-Behavioral Therapy (CBT) for the treatment of Obsessive-Compulsive Disorder (OCD), Excoriation Disorder, and related anxiety based conditions. In addition to individual therapy, the center offers five weekly therapy groups, including a weekly group for adults with Excoriation Disorder, as well as online therapy, telephone therapy, and intensive outpatient treatment. To contact the OCD Center of Los Angeles, click here.
SaveSave
SaveSave
SaveSave
SaveSave
SaveSave
SaveSave
SaveSave
SaveSave
SaveSave
SaveSave