An interview with Tom Corboy, MFT, of the OCD Center of Los Angeles, about online, webcam-based therapy for the treatment of OCD, anxiety, and related conditions.
---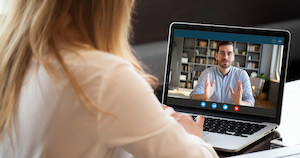 What is online therapy and how is it done?
Online therapy is just therapy conducted over the internet via webcam. It is exactly the same as face-to-face treatment that occurs in a therapist's office, with the only significant difference being that the therapy occurs over the internet.
Our online treatment program focuses on Cognitive-Behavioral Therapy (CBT), which has consistently and repeatedly been found by researchers to be the most effective treatment for all forms of OCD and for most related conditions.
CBT is particularly well-suited to being conducted online because it uses a structured treatment protocol that is easily adapted to online treatment. Our program uses two structured treatment manuals that every client receives, and which are central to therapy. Conversely, psychoanalysis and other forms of traditional talk therapy focus on largely unstructured treatment approaches that are not conducive to online treatment.
Besides OCD, what other conditions does the OCD Center treat with online therapy?
We treat a number of conditions that are related to, or similar to OCD. These conditions have obsessive-compulsive qualities that are quite similar to OCD, and are frequently described as Obsessive-Compulsive Spectrum Disorders. Some of the other conditions we treat include Phobias, Social Anxiety, Health Anxiety, and Body Focused Repetitive Behaviors (BFRBs) such as Dermatillomania (compulsive skin picking) and Trichotillomania (compulsive Hair pulling).
Is online CBT effective for OCD and these other conditions?
There have been scores of studies on online therapy, and they have consistently found this approach to treatment to be just as effective as in-person treatment. One study even found online treatment to be more effective, mostly because the treatment was viewed by study participants as being easier to access than in-person treatment, and so they were less likely to discontinue treatment.
What about the technology – do you use Skype or FaceTime or something else?
We generally don't use Skype or FaceTime because those platforms are not as secure as we would like. We use a webcam platform similar to Skype, but with more features and a higher level of encryption. It was developed specifically for the health field and provides us with the security and the feature-set we require. The platform is extremely easy to use and is free to our clients.
Is it easy to diagnose someone with OCD or a related condition over the internet?
In most cases, there is no significant difference in assessing someone online, as opposed to conducting an assessment in-person. Regardless of whether an assessment is conducted online or in-person, the diagnostic criteria are the same. And we use the exact same diagnostic questionnaires when doing online assessments.
Think of it this way – when we are assessing someone in our office, we are generally doing four things: we are looking at them, asking them questions, listening to their answers, and giving them specific questionnaires related to OCD. We do the exact same four things when conducting an assessment online.
Why do you think people from outside of Southern California, and outside of the US, are seeking help from the OCD Center of Los Angeles, rather than where they live?
The primary reason that people seek out treatment online with our center is that there is such a shortage of therapists who know how to appropriately treat OCD and related conditions with CBT. We receive calls and emails every day of the week from people throughout California, across the country, and around the world who are suffering with OCD or a related condition, yet are unable to find therapists who know how to appropriately treat them.
The main reason this problem persists is that there is a lack of effective training for the treatment of OCD and anxiety. I can say from personal experience that graduate school training for the treatment of OCD and related conditions is woefully inadequate. If a mental health treatment provider wants to specialize in treating these conditions, they will almost certainly need to seek extra training above and beyond what they receive in graduate school.
Where do most of your international online clients live?
The majority of our international online clients are in the United Kingdom, Canada, and Australia. There are two factors in why we receive a disproportionate amount of inquiries for these three countries. First, like the US, these countries all have English as their primary language. When someone with OCD or a related condition does not speak English fluently, there is obviously an additional barrier to treatment at our center. And second, psychotherapy is more culturally acceptable in these three countries than in many other countries. All that being said, we have treated many clients online who live in countries where English is not the primary language.
And what about online therapy for clients in the US?
We have long distance clients who live throughout California and across the country. Telephone and online therapy have been legal in the state of California for the past 20 years. It is a geographically large state, and many people live in areas that do not offer access to specialized mental health care. So for these clients, online therapy is a gamechanger. For our US-based clients residing in states other than California, it is important to note that every state in the US has its own laws regulating the practice of psychotherapy for its residents. We are currently able to provide phone and/or online therapy to clients residing in California and eight other states. For a list of those states in which we can provide phone and online therapy, I encourage readers to visit the online therapy page of our website at https://ocdla.com/telephone-online-therapy-ocd-anxiety.
Have you ever diagnosed people from other states or countries who have already been to a local physician or psychotherapist who has failed to recognize the signs of OCD or a related condition?
Yes, but this is not unique to our out-of-state clients or international clients. We regularly treat in-person clients at our five office locations in Southern California who have undergone treatment with other therapists who were absolutely clueless about OCD. In fact, the International OCD Foundation estimates that it can take up to 17 years from the onset of symptoms to get an appropriate diagnosis and treatment for OCD. One of the primary obstacles in finding effective treatment is that many therapists simply don't understand OCD and how to treat it.
Can you give a full diagnosis to an international online client so that they can go to their doctor or therapist and say "this is what I've been diagnosed with" – or is it not as simple as that?
Yes, we provide a formal diagnosis for all of our online clients – usually by the end of the initial assessment session. But frequently, the client's local mental health treatment provider does not have the training to provide appropriate treatment. Or worse, their treatment provider may dispute the diagnosis because he/she doesn't understand that OCD is far more than just compulsive hand washing (which is the average ununiformed person's idea of what OCD is).
But again, this lack of clinical understanding is hardly the exclusive province of therapists in other countries. Many mental health care providers in the US are equally misinformed about OCD and related conditions, and how to appropriately manage these conditions with evidence-based CBT.
How many out-of-state and international clients seek help from the OCD Center of Los Angeles?
We don't keep special statistics of the number of clients we treat from other states or countries for one simple reason – we treat them exactly the same as we treat people sitting in our offices in California having in-person treatment. As far as we are concerned, online therapy is just therapy conducted with the assistance of 21st century technology. That said, we have treated hundreds of long-distance clients via online therapy.
When treating clients online, what do you find works better for OCD, anxiety, and related conditions – the cognitive side of therapy or behavioral therapy?
There is really no reason to separate cognitive therapy and behavioral therapy. I like to think of them as two sides of the same coin. At our center, we use both Cognitive Restructuring (the main cognitive therapy technique for OCD and related conditions) and Exposure and Response Prevention (ERP) (the main behavioral therapy technique for these conditions) with virtually all of our clients struggling with OCD and anxiety disorders. We also have a strong emphasis on mindfulness and acceptance techniques that are commonly described as "third wave" CBT (cognitive therapy and behavioral therapy being the first two waves). And for our clients with BFRBs such as Dermatillomania and Trichotillomania, we focus heavily on a type of CBT called  Habit Reversal Training (HRT).
What would be your one bit of advice to people who are suffering with OCD or a related condition?
If I had to reduce treatment advice for these conditions to one rule of thumb it would be this: accept the existence of your unwanted thoughts, feelings, sensations, and urges without doing whatever compulsive behavior your particular condition is telling you must be done. You can experience an obsessive thought, feeling, sensation, or urge without responding to it. The problem is not the obsessive side of the equation, but rather the compulsive behavior done in response to the obsession. When you resist the urge to do a compulsive behavior, you break the cycle that maintains these conditions. I'm not saying this is easy, but with effective, evidence-based CBT, you can learn to respond differently to your obsessions.
---
• Tom Corboy, MFT is the founder and executive director of the OCD Center of Los Angeles, a private, outpatient clinic specializing in Cognitive-Behavioral Therapy (CBT) for the treatment of OCD, anxiety, and related conditions. In addition to individual therapy, the center offers five weekly therapy groups, as well as online therapy, telephone therapy, and intensive outpatient treatment. To contact the OCD Center of Los Angeles, click here.