Everybody experiences unwanted thoughts from time to time, but people with Pure Obsessional OCD (aka, "Pure O") often feel completely overwhelmed by intrusive, distressing thoughts. Tom Corboy, MFT of the OCD Center of Los Angeles discusses Pure O and its many permutations.
---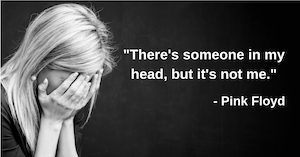 When most people think of OCD (if they think of OCD at all), they think of obvious compulsive behaviors such as repeated hand washing or door checking. This is likely because they have seen television news reports about OCD that focus on these sorts of overt compulsive behaviors. Or perhaps they've seen films like The Aviator or As Good As It Gets or Matchstick Men that showcase characters doing these or similar compulsive behaviors.
But these obvious compulsions are really just the tip of the OCD iceberg. Many people with OCD exhibit few, if any, of these outwardly observable compulsions. Based on my 25 years of experience specializing in the treatment of OCD, I posit that the great majority of people with this condition actually struggle with what is colloquially known as Pure Obsessional OCD, or "Pure O", in which their behavioral symptoms are more subtle, and often unrecognized as "compulsions" by anyone, including themselves. In fact, the great majority of calls we receive at the OCD Center of Los Angeles are from people who are struggling with Pure O. Which begs the question…just what exactly is Pure O? 
What is Pure O?
First, let's be clear in noting that there is nothing even remotely "pure" about Pure O. In fact, it would not be a stretch to say that Pure O doesn't really exist, or is at the very least a significant misnomer. Every single person I have ever treated for Pure O has exhibited numerous compulsions. In fact, I would argue that it is the compulsions that really define the disorder.
Simply put, Pure O is nothing more than a widely-accepted slang term for the various subtypes of OCD in which the compulsive behaviors are less obvious to the outside world. Not non-existent – just less obvious. As anyone who has ever been "caught" doing their compulsions will tell you, hand washing, door checking, and other outwardly physical compulsions are quite obvious to just about anyone who is paying attention. In fact, it is this visual obviousness that makes these types of compulsions so appealing to screenwriters and tv news crews. Conversely, while people with Pure O may do these sorts of behaviors, their more painful struggle is generally with the three following types of compulsions, all of which are far less outwardly obvious:
Avoidance compulsions – Avoiding situations in which you anticipate experiencing unwanted thoughts, feelings, urges, or sensations.
Reassurance-seeking compulsions – For example, repeatedly asking others to confirm that you did or did not do something, or that something you did or thought was not "bad".
Mental Compulsions – There are various ways in which people with OCD do mental compulsions. Some simple examples include repeatedly reviewing a past event in your mind in an effort to prove you did not do something horrible, or purposely calling up a "bad" thought in order to check if it still causes you distress, or ritualistically praying in an attempt to eliminate "bad" thoughts.
It is important to emphasize here that Pure O is not separate from OCD, nor is it some sort of "new" or "special" type of OCD. It is simply shorthand for OCD in which the individual's compulsions are more focused primarily on these three types of behaviors. And while these behaviors are more hidden than overt compulsions such as hand washing or door checking, they are done with the exact same intent – to quell anxiety related to the individual's unwanted obsessive thoughts.
There are a number of OCD subtypes that are generally considered to be part of the Pure O spectrum, including, but not limited to, the following:
Harm OCD – Obsessing that you have harmed someone, or want to harm someone. Common Harm OCD obsessions focus on the fear that one might purposefully cause harm, such as stabbing, suffocating, strangling, or shooting people, or on accidentally causing harm, such as running over pedestrians while driving or accidentally poisoning family members.
HOCD, aka Sexual Orientation OCD – Obsessing that your sexual orientation is not what you think it should be. For straight people, HOCD focuses on obsessions that they are secretly gay or bi. Likewise, there are also people who are gay or bi who obsess that they are secretly straight.
Trans OCD (TOCD) – Obsessing that your gender is not what you think it should be. For most people with Trans OCD, the fear is that they are secretly transgender. However, there are also people who are transgender who obsess that they are in denial and that they are actually cis-gender.
Pedophile OCD (POCD) – Obsessing that you are secretly a pedophile. It is important to note that people with POCD are not pedophiles, but are consumed by the fear that they secretly are.
Relationship OCD (ROCD) – Obsessing that you actually do not love your spouse or partner, or that you are secretly not attracted to them. In some cases, the obsessions in ROCD may focus on feelings towards non-romantic relationships such as friends or family members.
Religious Scrupulosity – Obsessing that you are not living your life in perfect accordance with the precepts of your religious faith. Religious Scrupulosity can occur in people of any faith.
Moral Scrupulosity – Similar to Religious Scrupulosity, except that the obsessions in Moral Scrupulosity focus not on religious faith, but rather on the fear that one is not living according to their personal moral beliefs and values.
In each of these OCD subtypes, the individual may perform a certain amount of obvious OCD compulsions, such as washing or checking. For example someone with Harm OCD may compulsively check that the stove burners are turned off for fear of causing a gas explosion that would potentially kill their entire family. Likewise, a straight person with HOCD might feel compelled to wash after driving through a gay neighborhood. But people with Pure O will likely be far more impacted by the hours of less obvious compulsions they perform, most or all of which will be completely unnoticed by others.
Furthermore, even obvious compulsive behaviors such as repetitive hand washing and door checking are often done as a response to unwanted, highly distressing Pure O thoughts. For example, some people who compulsively wash their hands do so not out of fear that they themselves will get sick, but rather for fear of transmitting some horrible disease to others. In other words, their handwashing is often a function of Harm OCD in which they fear being responsible for harm coming to other people. Ditto for the door checker whose compulsive checking is often done with the intent of ensuring that they are not responsible for leaving the doors unlocked, through which someone might easily break into their home and kill their family.
Room 101…or Why Pure O is So Devastating to Sufferers
Anyone who has gone to high school in the US over the past 50 years is likely to have been assigned to read George Orwell's dystopian novel 1984. In that book, the thought police have a special room – Room 101– that they use when trying to break the will of people who dare to think freely. It is in Room 101 that the thought police use people's biggest fears against them. As described in 1984, Room 101 is where "they threaten you with something – something you can't stand up to –  can't even think about." The main character in 1984, Winston Smith, is terrified of rats. In order to get Winston to turn on his lover, the thought police put two rats in a small cage, and then place the cage over his face. The only thing separating the rats from Winston's face is a small door inside the cage. Faced with his biggest fear, Winston completely gives in. He turns on his lover rather than face the rats.
Essentially, Pure O is Room 101. It is your mind acting as the thought police and threatening you with your worst fear. For Winston, it was rats, so the thought police put rats in a cage and put the cage over his face. For people with Pure O, it can be any thought you don't want. Murder, pedophilia, sexual orientation, eternity in hell – whatever you "can't stand up to – can't even think about".
Over-Attending, Over-Valuing, and Over-Responding
In Pure O, the fear of the thought itself is the motivator for the compulsive behavior. After all, what is Pure O but unwanted thoughts (i.e., obsessions) that we"can't even think about", along with our over-reaction to said thoughts (i.e., compulsions). Seen this way, Pure O is basically a phobia of your own thinking – a fear of your own mind and what it might come up with next.
In Pure O, there is a three-step process by which your personal internal thought police are using the fear of your own thoughts to make you miserable:
Over-attending – People with Pure O pay way too much attention to their thoughts. They actively monitor their thinking to see if they are having thoughts that they don't think they should be having. This occurs in two different ways. One is by monitoring thoughts that happen to arise spontaneously in their consciousness. A second way is that they actually go looking for unwanted thoughts. Countless clients we have treated over the years have reported that they will purposely dredge up their unwanted thoughts so that they can evaluate whether or not they are having an appropriate level of disgust or discomfort in response to those thoughts. This is rather like poking a stick in your eye to see if it will hurt, and invariably leads to the next step in this maladaptive process.
Over-valuing – It is quite reasonable to evaluate the world. It's what the human brain does, all day long. But evaluating your thoughts to determine whether or not those thoughts are "ok" or "acceptable" or "accurate" is problematic. If you focus on evaluating your thoughts, you will start to believe that all of your thoughts are actually important and worthy of evaluation. But the truth is that much of what we think is completely and utterly unimportant. It's just mental static that does not warrant your time or attention. Your brain keeps churning, 24 hours a day (yes, even when you are sleeping), and most of what it comes up with doesn't merit attention or evaluation. Most of your thoughts are not good or bad – they are just present in your consciousness, with no particular importance. They just pop into your mind unbidden and do not automatically indicate anything whatsoever about your character or intent.
Over-responding – Unfortunately, after spending so much time and mental energy paying attention to your thoughts, and evaluating them as being bad and unacceptable, it is only natural that you would respond to them. We humans naturally want to solve problems, especially problems that make us uncomfortable. And if you have determined that your thoughts are a problem, you are likely going to be anxious and uncomfortable with those thoughts. You are going to want to try to find a way to get rid of them, or to at least minimize their impact. This is the compulsive side of OCD, and it is a trap. Whether you try overt compulsions, avoidance, reassurance-seeking, or mental compulsions, you are merely going to make your OCD worse. Every second that you spend trying to fix or eliminate your unwanted thoughts, you are reinforcing the belief that they are important, and must be controlled. But you can't control your thoughts, and in trying to do so, you are doomed to failure. You are digging the ditch deeper and deeper, and pretty soon, it is going to be very difficult to climb out of the hole you have made for yourself.
The bottom line is that the great majority of your thoughts do not need to be monitored, evaluated or responded to. They are just the idle chatter of the thinking machine in your head. A far better way of addressing Pure O thoughts is to just let them exist, without attending to them, or valuing them, or responding to them. Just let them exist unanswered. They are just thoughts.
Confirmation Bias in Pure O
Another way of viewing how Pure O wreaks such havoc is through the lens of "confirmation bias", which is a term in cognitive science for "the tendency to search for, interpret, favor, and recall information in a way that confirms one's preexisting beliefs or hypotheses". (Plous, Scott (1993), The Psychology of Judgment and Decision Making, p. 233) Put more simply, confirmation bias is the all-too-human trait of cherry picking information that supports and confirms what we already believe, while ignoring and rejecting evidence to the contrary. It is because of confirmation bias that people with Pure O blindly over-value unwanted thoughts that are backed by little or no evidence.
For example, a 57-year-old man who has had Harm OCD for 40 years may have recurring thoughts about stabbing his grandchild. When he experiences these thoughts, he immediately thinks, "See, I am a monster who wants to kill his own grandchild". But in jumping to this baseless conclusion, he is over-valuing the thought about stabbing his grandchild as being "meaningful" and "accurate", while ignoring the fact that he has had these kinds of thoughts for 40 years without ever acting on them. Because of confirmation bias, he views the "bad" thought as being more important, more meaningful, and a more accurate indicator of his character and intent than all of the 40 years of evidence that indicate he is not a killer despite having these unwanted thoughts.
Ego-Dystonic Thoughts vs. Ego-Syntonic Thoughts  
To fully grasp the concept of Pure O, it is necessary to understand the difference between ego-syntonic thoughts and ego-dystonic thoughts.
Ego-syntonic thoughts are thoughts which reflect our true values, beliefs, and intent. For example, if I were to have the thought, "I like ice cream", that would be an ego-syntonic thought because…I really, really like ice cream. Conversely, if I were to have the thought "I want to kill grandma", that would be an ego-dystonic thought, because I really don't have any desire or intent whatsoever to kill my grandmother.
The difference between ego-syntonic thoughts and ego-dystonic thoughts has nothing to do with any objective definition or measure of what people see as "good" or "proper" or "healthy", but rather is based entirely on the subjective values of the individual. Basically, ego-syntonic thoughts are consistent with how we see ourselves, while ego-dystonic thoughts are inconsistent with how we see ourselves.
For example, some individuals like the idea of sex with people of the same gender, while others do not. The issue is not sexual orientation in and of itself, but the individual's subjective values and beliefs about him/her self. So if a person sees him/her self as "straight", yet has repeated, unwanted thoughts about being gay, those thoughts are ego-dystonic. Likewise, if a person sees him/her self as "gay", yet experiences repeated, unwanted thoughts that they are secretly straight, those thoughts are also ego-dystonic.
People with Pure O get stuck precisely because of how they react to their ego-dystonic thoughts. For example an individual with Relationship OCD may have the unwanted thought that they do not actually love their spouse. They see themselves as someone who loves their spouse, and are quite distressed that they repeatedly experience thoughts that they do not. They over-attend to these unwanted thoughts, compulsively monitoring them in an effort to discern how they "really" feel. They also over-value these unwanted thoughts by assuming that these thoughts are important and meaningful. Confirmation bias kicks into gear, leading them to notice these thoughts more often than all of the many loving thoughts they have about their spouse, and to give these thoughts much more weight than all of those loving thoughts. They then over-respond to these thoughts, doing all sorts of compulsive behaviors that are designed to alleviate their doubt, but which actually make it much worse. In fact, in most cases, the only "evidence" they have that they don't love their spouse is the presence of the unwanted thoughts, which is really no evidence at all.
Pure O and Denial
Often, people with Pure O obsess that they are in denial about their true self. They spend much of their time locked in an internal battle with themselves trying to determine who they really are and what they really want. It's as if they see themselves as a Russian nesting doll in which there is a "different" self secretly hidden inside their allegedly "fake" outer self. But this is nonsense. There is no secret deep-seated self that you have been keeping hidden from the world all these years through an elaborate and unknown process of denial. There is just you and your values and your choices. As the ancient Roman philosopher Seneca said, "You are your choices". I don't recall any philosopher ever saying anything like "You are your unwanted thoughts".
The bottom line is that you are not responsible for the unending stream of thoughts that pop into your consciousness. Thoughts just happen, and many (most?) range anywhere from unimportant to ridiculous. If you were to keep a running log of all of the thoughts you have in a given day, you would quickly discover just how few are actually meaningful or important.
Think of it this way – if our thoughts are evidence of our true character and intent, then just about everybody is a murderer, as most of us have at some time or another thought of killing someone, even if only while watching a movie or reading a book in which a murder takes place. Think of all of the people who have written books or made movies about killers. Are they all killers themselves? They have all clearly had thoughts about murder, otherwise there would be no way for them to have created stories about such things. Years ago, at the annual conference of the International OCD Foundation, there was a presentation entitled "If Stephen King Can Do It, Why Can't I?", the joke being that Stephen King took all of his thoughts about crazy killers and turned them into millions of dollars…all without having to kill even one person in real life!
Treatment of Pure O
Some people have the mistaken belief that Pure O is somehow "special" or "different", and as such is unresponsive to treatment, but that is simply not the case. Pure O responds quite well to treatment, so long as the therapist actually understands OCD and has the proper training. The most effective, evidence-based treatment for Pure O is the exact same treatment that works for all forms of OCD, namely Cognitive Behavioral Therapy (CBT), with an emphasis on a specific CBT technique called Exposure and Response Prevention (ERP). Check back to this blog in the future to read our follow-up article on treatment considerations for Pure O.
•Tom Corboy, MFT is the founder and executive director of the OCD Center of Los Angeles, a private, outpatient clinic specializing in Cognitive-Behavioral Therapy (CBT) for the treatment of Obsessive-Compulsive Disorder (OCD) and related anxiety based conditions.  In addition to individual therapy, the center offers five weekly therapy groups, as well as online therapy, telephone therapy, and intensive outpatient treatment.  To contact the OCD Center of Los Angeles, click here.