Chanel Taghdis, LMFT, of the OCD Center of Los Angeles, discusses the efficacy of Exposure and Response Prevention (ERP) for OCD and related conditions when conducted via teletherapy.
---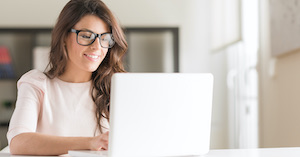 The year of 2020 presented challenges that no one anticipated. A new and misunderstood virus created a world-wide pandemic resulting in shutdowns across the globe. Schools were closed. Restaurants and businesses were closed. Offices were closed. With social distancing becoming the new standard, employees transitioned to working from home. What did this mean for therapists and clients? A pause in treatment? Panic? Uncertainty? Maybe at first, but technology quickly came to the rescue. It is now 2022 and treating clients for a variety of mental health disorders online has become the new normal. At the OCD Center of Los Angeles, we have offered teletherapy for OCD and anxiety disorders for many years, but never at this magnitude. After two years of this transition, the question is: Is online therapy for these conditions as effective as face-to-face, in-person treatment?
What is teletherapy and how does it work?  
Teletherapy is essentially therapy conducted over the computer using a webcam. It is the exact same treatment that is done with clients in person and the only difference is that it is done via camera. The platform we use for online therapy is very similar to Zoom, but it has a higher level of security meant for health care professionals. It includes multiple features and provides a sense of safety that the client's confidentiality is protected due to the high encryption.