Brandi Roberts, MS, AMFT, of the OCD Center of Los Angeles, shares her personal experience and recovery from relationship OCD (ROCD), as well as discusses the dynamics and treatment of this very common OCD subtype.
---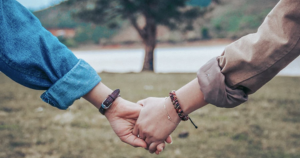 Three months into my first romantic relationship, I was on a date with my boyfriend, and suddenly I was hit with a tightness in my chest that felt unbearable, and a suffocating desire to end the relationship. I had no idea why I felt this sudden anxiety, because he was a sweet guy who treated me well. After a lot of tears and confusion I broke up with him. The only explanation I could give was that, "It just didn't feel right." My next few short relationships ended in the same way and I couldn't figure out why dating caused me so much anxiety. It was so emotionally exhausting, I didn't date for a long time. Many years later, I met someone I truly could see a future with, and although I was very emotionally vigilant and always waiting for the anxiety to show up, I didn't feel it for a while. Shortly after a year of dating, I was experiencing many stressful events in my life, and my partner was my main source of comfort and security during that time.
Then it happened, seemingly out of nowhere: The tightness in my chest, the feeling of wanting to break up, and fear that he wasn't the right one. I tried to quiet the thoughts, but my intrusive thoughts jumped to thinking my partner was cheating on me, but there was no reason to think so. Then my thoughts jumped again to thinking I might hurt my partner, my family, or myself, followed by feeling shame and guilt. I was scared and this anxiety was impeding my ability to function, so I began researching my symptoms and it turns out, my experience was common for Relationship Obsessive Compulsive Disorder (ROCD). This experience was the beginning of a challenging journey through healing from ROCD, and eventually led me to becoming an Obsessive Compulsive Disorder (OCD) therapist.